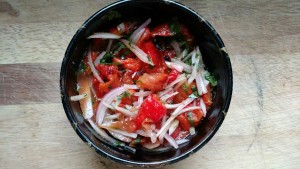 Making homemade roasted red peppers is so much easier than you think! And so delicious too. The prepped peppers keep for up to 3 days in the fridge and are an impressive dish to accompany a charcuterie platter, throw on a salad or sandwich, top over grilled fish or simply snack on as is. Try this marinated recipe with parsley, basil, mint or even dill. You can even throw in some olives or capers, too. It's a great base recipe to put your own spin on.
Marinated Roasted Red Peppers with Quick-Pickled Shallots
Recipe inspired by my friend and fabulous New Orleans cook, Yvette Jemison from Ydelicacies.com. Thanks, Yvette!
SERVINGS: 4-6            ACTIVE: 20 MIN TOTAL: 30 MIN
1 small shallot, thinly sliced
1 tsp red wine vinegar
Pinch of Kosher salt
Pinch of sugar (optional)
2 large red bell peppers, roasted, charred skins removed
1 Tbsp olive oil
1 tsp Balsamic vinegar
¼ cup parsley, roughly chopped
Kosher salt and freshly ground pepper, to taste
Method
To quick-pickle the shallots, place them in a small bowl followed by red wine vinegar, salt and sugar (optional, but helps mellow the onion flavor). Mix together and set aside.
Next, roast the peppers. Two ways to roast them: 1) Place whole, washed and dried peppers directly on stovetop grates over the flames. Rotate peppers with tongs until skin is blistered and charred on all sides, 8-10 minutes. Alternatively, 2) Halve the peppers lengthwise and remove the seeds and stems. Place cut-side down on a baking sheet. Position the oven rack in the upper third of the oven. Broil on high until skin is blistered and charred, about 10-15 minutes. Check on them after 5-8 minutes, and rotate baking sheet, if needed, so they char evenly all over the outside, but leave peppers skin-side up.
Once peppers are charred, place them in a large bowl and cover tightly with plastic wrap. Let sit for 15-20 minutes. Next, peel away the charred skin and discard. If you roasted the peppers whole, remove the stems and seeds and discard. Slice peppers into thin strips and place in serving dish. Top with quick-pickled shallots, olive oil, Balsamic vinegar, parsley, salt and pepper. Taste and adjust seasonings, if needed. Serve.
DO AHEAD: Marinated peppers can be made up to 3 days ahead and stored in the fridge in an air-tight container.
Click on any of the images below to catch the replay!
—