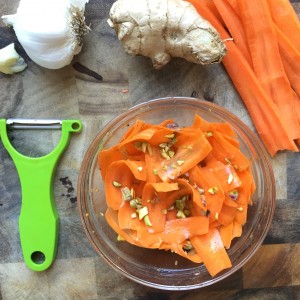 This is my favorite kind of recipe. Simple, yet surprising. The unique blend of spices in the dressing adds a warmth and depth of flavor that take a seemingly boring salad to another level. The mix of cumin and garam masala make it a super comforting dish too. Not bad for a bowlful of raw carrots! It's an unsuspecting side dish that could easily steal the show. And no one will ever guess it only took you a few minutes to prepare.
Try it with spiralized carrots or use a standard potato peeler to make carrot ribbons. You can also add raw parsnips, or even daikon to change it up. Enjoy!
Spiralized Carrot Salad with Crushed Pistachios
Serves 4-6 (or more if used as a slaw)
6-8 carrots, washed, dried, peeled, then sliced into ribbons (or spiralized!)
3 Tbsp extra virgin olive oil
1 Tbsp freshly squeezed lemon juice (from half a lemon)
1 small clove garlic, grated
1/2-inch knob of ginger, grated (about 1/2 tsp)
1/2 tsp honey or agave nectar
1/4 tsp ground cumin
1/4 tsp garam masala
Kosher salt and freshly ground pepper, to taste
Splash of sherry vinegar (optional)
1/2 cup shelled pistachios (roasted, unsalted), crushed
Place carrot ribbons in serving bowl and set aside. Place remaining ingredients, except for the pistachios, in a jar. Secure the lid and shake well to combine. Taste and adjust seasonings, if needed. Spoon dressing over the carrot ribbons until coated. Some dressing may remain, but will keep for up to 1 week in the fridge. Top with crushed pistachios and serve.
DO AHEAD: Carrot salad can be made the night before and will keep for up to 2 days in the fridge. But salad is at its crunchiest when served immediately.
VARIATIONS: You can also use half carrots, half parsnips in the recipe or carrots and daikon radish for a fun twist!
Check out the spiralized carrot fail over on my FacebookLIVE (third time's a charm!). 
Ciao,
Andrea