Pesto is a rock star. It goes with just about anything and while it might not look like the prettiest food on the planet, it will make your taste buds sing. Plus, I love the fact that this recipe uses up the tops of the carrot, which someone on my scope thought were poisonous. For the record, they are not poisonous. They are delicious. No poisonous foods up in here, I promise.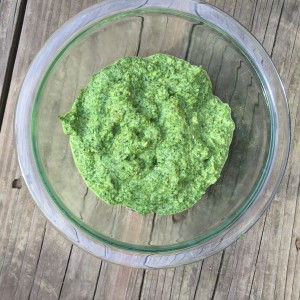 Carrot Top Pesto
Inspired by April Bloomfield's Recipe from A Girl and Her Greens
Ingredients
2 packed cups carrot tops, washed, dried and larger stems removed
2 packed cups basil, washed, dried and larger stems removed
3-4 Tbsp nutritional yeast (or ¼ cup freshly grated Pecorino Romano cheese)
1/3 cup toasted pignoli aka pine nuts (or toasted walnuts)
1-2 cloves garlic, halved
1/3 cup extra virgin olive oil
Sea salt and freshly ground pepper, to taste
Method
Bring a large pot of cold water to boil. Meanwhile, prepare an ice bath by filling a large bowl with water and ice. Once the water comes to a boil, season generously with Kosher salt (it should taste like sea water). Place the carrot tops and basil leaves in the boiling water until wilted, 30 seconds to 1 minute, and then transfer immediately to the ice water to cool. Set aside.
In a food processor, add your wilted greens followed by the nutritional yeast, toasted pignoli and garlic cloves. Pulse a few times to combine. While the food processor is running, drizzle in the olive oil until it reaches your desired consistency. You may not need the entire 1/3 cup. Season to taste with salt and pepper and pulse a few extra times just for fun. Serve over pasta, zucchini noodles, on pizza, on toast.
To catch the replay of this recipe, click on any of the images below. It was my biggest live audience to date!! Over 1,500 people (and trolls, but alas).
Thanks for tuning in!
Ciao,
Andrea