Classic Italian Easter Pie (dairy-free)
Inspired by a classic Italian Easter dessert (as well as a traditional Romanian Easter dessert called Pasca), this pie has all the same creaminess, bursts of citrus and chocolately goodness without any of the dairy. The best part? The biscotti crust brings another layer of chocolate (can you ever have enough?) and an extra nod to the flavors of Italy.
Typically made with ricotta cheese, I eliminated the dairy altogether and went with coconut milk instead. The flour was swopped out for coconut flour and the white sugar for a healthier unrefined option: coconut sugar. Dare I say coconut one more time? It doesn't taste coconutty at all, pinky swear. Instead, it's fluffy, creamy, chocolately and more reminiscent of the original than you'd ever expect. Plus, there's a secret grandma trick to this recipe you won't want to miss (see step 9). The hardest part about making this cake is avoiding the temptation to open the oven and peek in as it cooks. But trust me, it's very much worth the wait and the entire house will smell like home.
Dairy-free Italian Easter Pie (or Romanian Pasca)
active 15 minutes       total 1 hour (plus extra time for cooling)
Makes 1 9-inch pie
INGREDIENTS
For the Filling
1 13.66oz can coconut milk (full-fat, unsweetened)
3/4 cup coconut sugar
1 Tbsp coconut flour
1 Tbsp grated orange zest (from 1 large orange)
1 tsp fresh orange juice (use the same orange after zesting)
4 eggs
2/3 cup dark chocolate chips (I used Santa Barbara unsweetened chocolate discs, diced fine – they are 100% cacao, but if you'd rather something a little sweeter 70% dark or higher is fine or semi-sweet chocolate works too)
Special equipment: Food processor, 9-inch springform pan
How To Make It
Preheat oven to 350 degrees F.
To prepare the crust, place biscotti, coconut oil, and dates in food processor and pulse a few times until mixture resembles coarse sand and sticks together when pressed between fingers.
Grease the bottom and sides of your springform pan with coconut oil. Transfer crust to pan and press firmly with the heel of your hand to evenly coat the bottom. Place in fridge to set.
Meanwhile, prepare the filling. In a large bowl combine the coconut milk, sugar, flour, orange zest and orange juice. Whisk together until no large clumps remain (small curdles ok and will melt down as it bakes)
In another mixing bowl whisk the eggs until frothy and bright yellow, about 5 minutes (by hand or in a stand mixer with whisk attachment).
Fold eggs into the coconut mixture followed by the chocolate chips.
Place the springform pan on a baking sheet to make it easier to transfer to oven. Pour filling into prepared pie crust.
Bake for 50 minutes (no peeking/opening the oven!), until custard is set.
(now for the grandma trick)… When 50 minutes is up, turn off the oven, place a wooden spoon in the door to keep it cracked open slightly or simply leave it ajar. Allow the pie to cool completely in the oven for at least an hour.
Decorate the edges with crumbled biscotti, chocolate shavings and oranges or orange zest (I used crumbled dried oranges for the photo). Enjoy!
Recipe by Andrea Branchini (inspired by the Taste of Home Baking Cookbook and Roxana from A Treats Affair)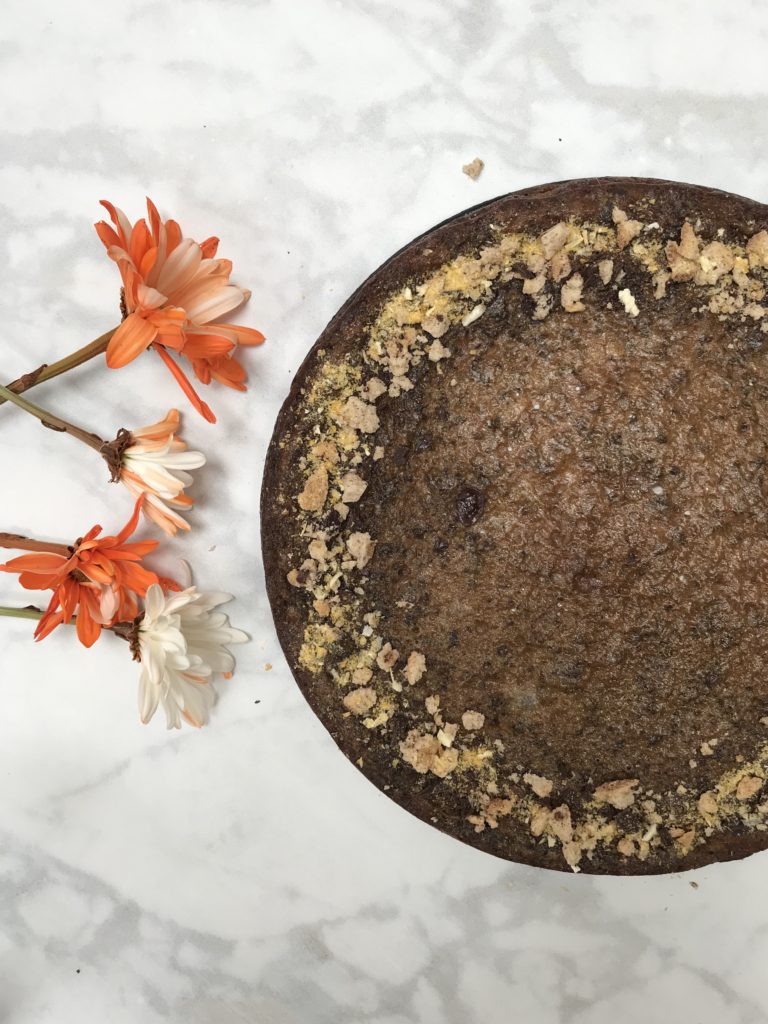 *note: Marlo's Bakeshop makes a gluten-free biscotti that can be used instead. Or you can use a gluten-free cookie of choice. The filling itself is gluten-free and refined-sugar free.
Summary
Recipe Name
Dairy-free Italian Easter Pie (or Romanian Pasca)
Author Name
Published On
Preparation Time
Cook Time
Total Time