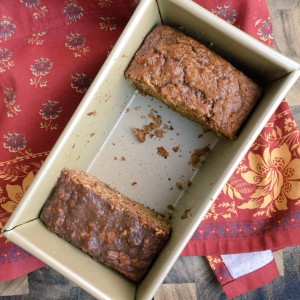 Gooey. Glorious. Gone. I made 2 loaves of this and they've already been gobbled up. My kids loved it, and I'm obsessed. Making more today, because I can't decide which one is better, the one with the egg or the one with the flaxseed "egg". I will say that the flaxseed version was much gooey-er (almost like the inside didn't quite set in the best possible way). Whichever you choose, no one will believe there's only 1 tablespoon of oil in this recipe. And that it's refined sugar free to boot. Bottom line: make extra. The Easter bunny will thank you.
My Favorite Low-Fat Carrot Cake "Bunny" Bread
active 30 minutes total 1 hr 45 minutes (includes soaking time for raisins)
Yield: 1 loaf, 12 muffins or 24 mini-muffins
Wet ingredients:
2 Tbsp flaxseed meal + 6 Tbsp water (or 2 eggs)
½ cup coconut sugar
¼ cup unsweetened applesauce
1/3 cup soaked raisin puree (see note)
1 Tbsp coconut oil, melted (or olive oil or grapeseed oil)
1 tsp vanilla extract
1 cup grated carrots
1/3 cup chopped walnuts
Dry ingredients:
1 cup whole wheat pastry flour, leveled off with a knife (or 1:1 gluten-free flour)
¾ cups almond meal
2 tsp baking powder
½ tsp baking soda
½ tsp Kosher salt
¼ tsp cinnamon
Method
Before you start, prep the raisin puree and flax egg, if using, and set aside (see note).
Preheat oven to 325 degrees F. Grease a loaf pan or muffin tin and set aside. In a large bowl, add the eggs (or flax eggs) followed by the coconut sugar and whisk to combine. Add applesauce, raisin puree, oil, vanilla, carrots, walnuts and stir to incorporate. Set aside.
In a medium bowl, whisk together the flour, almond meal, baking powder, baking soda, salt and cinnamon. Working in batches, slowly add the dry ingredients to the wet and fold until no streaks of flour remain. Be careful not to over mix. Pour batter into prepared loaf pan and bake until knife inserted in center comes out clean, about 40-50 minutes (flax egg version will take a little longer to set).
Remove from oven and let cool in loaf pan for a few minutes. Invert cake onto a serving dish and spoon on more of the raisin puree as a glaze. You can even poke some holes in the loaf with a thin skewer so the glaze soaks into the bread. Enjoy!
NOTE: To make the raisin puree, place 1 cup of raisins in a 2-cup or larger measuring cup. Top with cold water until it reaches 2 cups. Set aside to soak for at least 20 minutes or up to overnight. Blend raisin and water mixture to form a puree and set aside (for a thicker puree, drain a bit of the water before blending).
To make the flax egg, combine the flaxseed meal with water and set aside to gel for 15-20 minutes.
—
To watch me demo this delicious bread, click on either of the images below.
Thanks for tuning in!
Ciao,
Andrea