I can't take credit for the idea to chop carrots into a little "pumpkin" shape; that honor goes to the Pinterest wonderland. BUT, if you don't want to simply serve these adorable snackers raw, you can easily roast them up with a simple glaze, and wow your trick-or-treaters. It's salty sweet, delicious, caramelized and healthy?! Perfect way to balance out all that candy.
Enjoy and happy Halloween, everyone!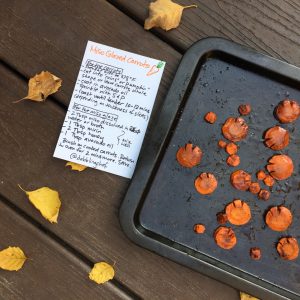 Miso-glazed Carrot "Pumpkins"
active 10 minutes total 20 mins
4-6 servings
INGREDIENTS
For the carrots:
1 pound carrots, cut into rounds or "pumpkin" shape (see note)
Avocado oil, to coat
Kosher salt and pepper, to taste
For the miso glaze:
2 Tbsp miso, dissolved in 2 Tbsp water or broth (white miso works best, but both red or white will work)
1 Tbsp mirin
2 Tbsp honey
1 Tbsp avocado oil
METHOD
Preheat oven to 375 degrees F. Place carrot coins or pumpkins in a medium bowl and drizzle with avocado oil, enough to lightly coat the surface. Stir to combine. Sprinkle with salt and pepper, to taste. Transfer to a baking sheet and arrange in a single layer, leaving about ½ inch of breathing room between the slices. Roast until tender and beginning to brown, 10-12 minutes.
Meanwhile, prepare the glaze. In a medium bowl, stir together the miso, mirin, honey and avocado oil. Set aside. Remove carrots from oven and carefully brush with miso glaze on one side. Return to over and cook for 2-5 minutes more, until glaze begins to caramelize. Serve warm.
NOTE: To cut the carrots into pumpkins, make a slit lengthwise down the carrot, going only right above the inner circle. Then make another slit lengthwise about ¼ inch over to form the "stem" of the pumpkin. Tilt the knife about 45 degrees to make a small slit towards the stem on each side and wiggle the knife until that piece pops out to shape the stem. Then chop width-wise into rounds.