This is one of the best desserts I've ever made. Hands down. Mic drop. Spatulas on the floor.
It's a mash-up of two delicious recipes from two delectable food bloggers, Donal Skehan and Leslie Nance.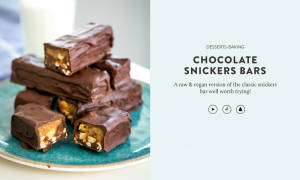 I took the Raw Snickers nougat and caramel layers from Donal's Raw Vegan Snickers Bar recipe and turned that into the crust for a cheesecake that will literally knock your socks off. (click the photo above for his Snickers Bar recipe)
Then I topped it with Leslie's no-cheese cheesecake filling. Done and done and vegan, no bake, raw, no refined sugar, practically no guilt, ridiculously delicious. (click the photo above for Leslie's no-cheese cheesecake recipe)
This is a keeper and perfect for a crowd. Made in a rectangular dish, it's more like cheesecake bars, easy to serve and devour again and again and again.
Enjoy!
-A
PS. To watch the video recipe, click the image below or head over to my Facebook page at Facebook.com/dabblingchef and don't forget to hit that like button pretty please with a snickers cheesecake on top 😉 xoxo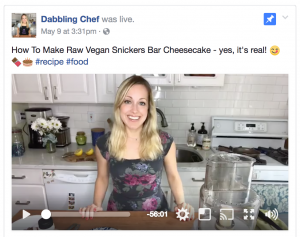 RECIPE FOR: 
Vegan Snickers Bar Cheesecake (no bake!)
(a mash-up of two amazing recipes: this one and this one.)
For the nougat layer:
8 medjool dates, pitted (see note)
1 cup smooth almond butter
6 Tbsp maple syrup
12 Tbsp puffed quinoa or brown rice
2 Tbsp almond meal or rice flour
For the caramel layer:
12 medjool dates, pitted (see note)
4 Tbsp coconut oil, melted
¼ cup water
1 pinch vanilla extract
pinch salt
¼ to ½ cup roasted peanuts (stirred in at end)
For the no cheese cheesecake layer:
3 cups cashews, soaked for 1 hour (or up to overnight), then drained
¼ cup lemon juice
¾ cups honey
¾ cups coconut oil, gently melted
1 tsp vanilla
1 tsp sea salt
½ cup water
For the topping:
1 cup dark chocolate
1 tsp coconut oil
¼ to ½ cup roasted peanuts to scatter over top
Equipment: Food processor or high-speed blender
 Method
Line a 9×13 Pyrex dish with parchment paper and set aside. Reserve some of the scraps of the parchment after you cut it (you'll use this to help press the sticky nougat layer into the pan).
To prepare the nougat layer, place dates, almond butter, maple syrup, vanilla, puffed quinoa/brown rice and almond meal in a food processor or high-speed blender and blend until smooth.
Press nougat into prepared baking sheet and spread as flat and evenly as possible. Place in freezer to set.
Next, prepare the caramel layer. Add the dates, coconut oil, water, salt and vanilla (everything except the peanuts) to the food processor or blender and process until smooth. Stir in the peanuts and spread the caramel layer evenly over the nougat layer. Place back in the freezer to set.
To prepare the cheesecake filling, add the cashews (soaked and drained), lemon, honey, coconut oil, vanilla, sea salt and water to a blender or food processor. Blend until smooth. Pour over prepared nougat and caramel layers. Freeze 2 to 3 hours.
For the chocolate drizzle, melt the dark chocolate and remaining teaspoon coconut oil over low heat. Drizzle over top of cheesecake. Top with roasted peanuts. Return to freezer to set.
Defrost before serving.
NOTE: Some medjool dates are softer than others. If you happen to have the drier ones, I recommend soaking them in water for 15 minutes, draining them and then following the recipe from there.