Dear Pumpkin Pie, how you've forsaken me. Every Thanksgiving, I look forward to your orangey, custardy chew; yet, year after year, there's nothing but apple or banana cream to consume. Why, oh why, am I alone in my obsession with pumpkin pie? It's just me and my brother-in-law, sad-eyed, staring at the dessert table, while sipping wine to fill the pumpkin-less void.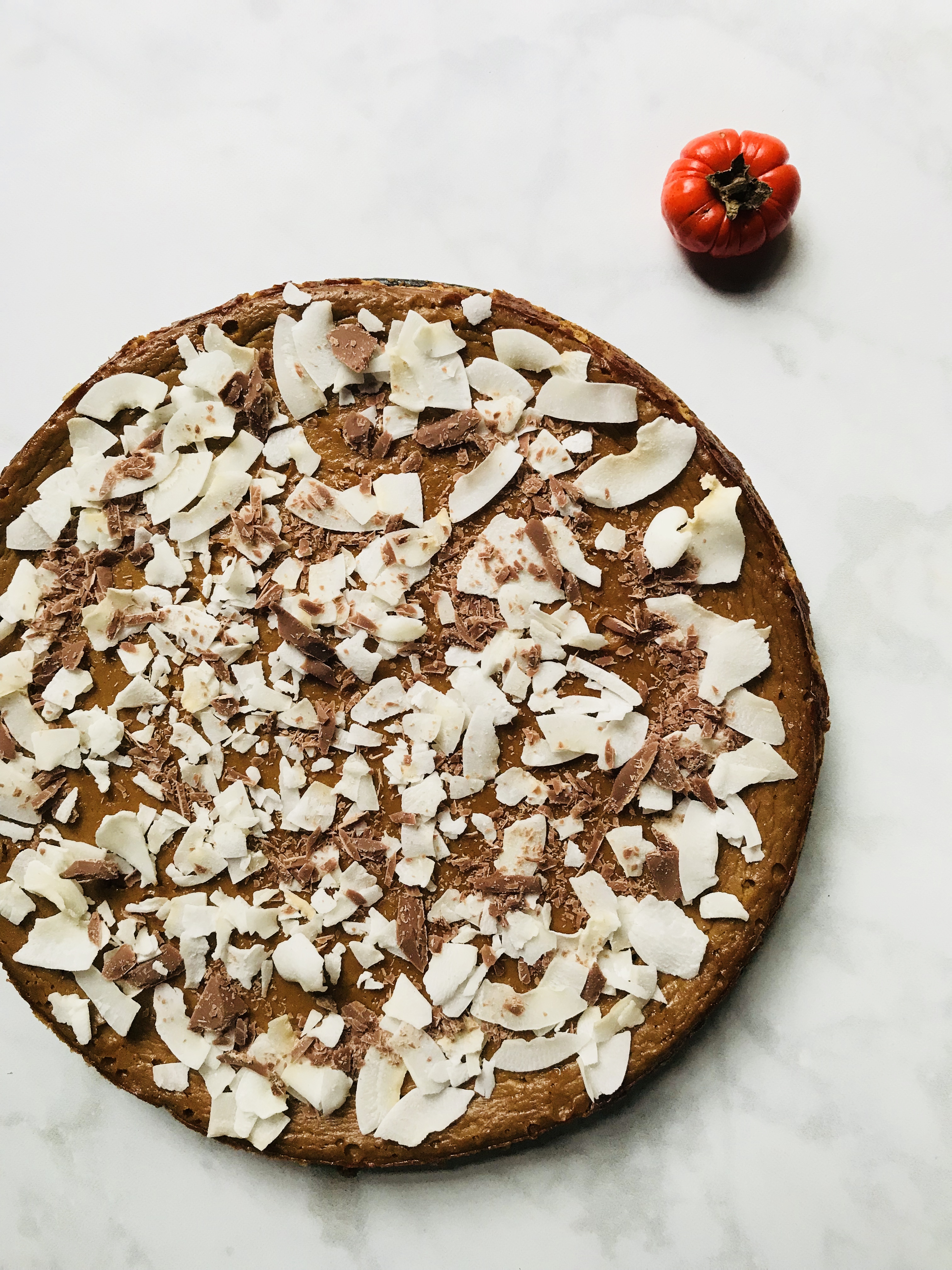 Ok, so maybe I'm being dramatic. But truth is, I'm one of let's say 3 people in our family who actually likes Pumpkin Pie – and all three of us are not blood relatives to the group of pumpkin pie hating humans we call spouses. Hmmmmm. Seems like a conspiracy is happening.
That said, if I'm going to make pumpkin pie, I need to make it so I don't feel guilty eating the entire pie myself over the course of the week in the morning with my coffee straight up for breakfast (hey, this is a judgement-free zone!).
This Paleo Pumpkin Pie recipe fits the bill perfectly. It's refined-sugar free and low-carb, especially if you skip the crust or use pecans for the crust instead. It's dairy-free too (does have eggs, though), doesn't use any sweetened condensed milk yet it's super simple to make. Eat up, pumpkin pie lovers! Eat up!
Oh, one last thing. I've conveniently provided the breakdown on how to make the recipe in 2 individual ramekins (in case you need a weeknight pie fix – we've all been there, trust me!). Ok, pumpkin lovers, here it is!
Paleo Pumpkin Pie
active 15 minutes total 1 hour (plus extra time for cooling)
Makes 1 9-inch pie
For the crust
2 cups pecans (or graham crackers or Bitsy's cookies; use pecans to make it Paleo)
2 Tbsp coconut oil (not melted), plus more for greasing pie pan
3 medjool dates, pitted
For the Filling
1 13.66oz can coconut milk (full-fat, unsweetened)
1 can pumpkin
3/4 cup coconut sugar
1 Tbsp coconut flour
4 eggs
2 tsp ground cinnamon
¼ tsp ground ginger
¼ tsp ground allspice
¼ tsp ground cloves
pinch ground nutmeg
Special equipment: Food processor, 9-inch springform pan & blender
How To Make It
Preheat oven to 350 degrees F.
To prepare the crust, place biscotti, coconut oil, and dates in food processor and pulse a few times until mixture resembles coarse sand and sticks together when pressed between fingers.
Grease the bottom and sides of your springform pan with coconut oil. Transfer crust to pan and press firmly with the heel of your hand to evenly coat the bottom. Place in fridge to set.
Meanwhile, prepare the filling. In a blender, add the coconut milk, sugar, coconut flour, eggs and spices. Blend on low, increasing speed gradually until mixture is smooth.
Place springform pan on a baking sheet to make it easier to transfer to oven. Pour filling into pan to cover the prepared crust.
Bake for 50 minutes (no peeking/opening the oven!), until custard is set.
(now for the secret grandma trick)… When 50 minutes is up, turn off the oven, place a wooden spoon in the door to keep it cracked open slightly or simply leave it ajar. Allow the pie to cool completely in the oven for at least an hour.
Decorate the edges with crumbled biscotti, shredded coconut, pecans or whipped cream. Enjoy!
Paleo Pumpkin Pie in Individual Ramekins (crustless)
(serves 2)
Ingredients
1 egg
1/3 can pumpkin puree (about a heaping 1/4 cup)
¼ cup coconut sugar
1/3 can coconut milk (the cream off the top – ~1/4 cup)
1 tsp coconut flour
½ tsp cinnamon
pinch each: ground ginger, ground cloves, ground allspice, ground nutmeg
How To Make It
Place all ingredients in blender, and blend until smooth (scraping down the sides as you go). Bake at 350 for 20 minutes. Let cool or serve immediately with a scoop of ice cream on top!
Summary
Recipe Name
Author Name
Published On
Preparation Time
Cook Time
Total Time