Pie or truffles? I vote both. The answer is always both. These truffles combine the crust from my vegan chocolate pie topped with homemade chocolate ganache to create decadent chocolate bombs of glory. They also kind of taste like those coconut caramel Girl Scout Cookies. And bonus points for the fact that you can skip the nuts altogether and make the chocolate ganache on its own. Simply follow step 3 in this recipe and pour onto a baking sheet lined with parchment paper or into chocolate molds and let set in the fridge (inspired by this recipe from eatsamazing.co.uk). My original pie recipe is here or click on the image above. So good it's featured in the recipe app by my girl Tara, blogger & Instagramer extraordinaire. She inspires others to live a more balanced lifestyle and is the founder of The Whole Tara.
Somoas / Caramel deLites Girl Scout Cookie Truffles (raw, vegan)
active 15 minutes total 30 minutes
Yield: about 2 dozen truffles
For the "crust":
2 cups pecans (raw)
¼ cup coconut sugar
1 ½ Tbsp coconut oil (see note)
2 tsp maple syrup
¼ tsp sea salt
For the chocolate:
½ cup coconut oil, melted (see note)
4-5 Tbsp raw, organic cocao powder (get the best you can find, not the dutch-processed cocoa powder)
4 tsp maple syrup (or less if you don't want them to be as sweet)
½ tsp vanilla extract
Additional cocoa powder, for garnish
Method
Spray a 9×13 pan or pie dish or large high-rimmed plate with a tiny bit of coconut oil spray to prevent sticking. Set aside.
To prepare the crust, place pecans, coconut sugar, coconut oil, maple syrup and sea salt in food processor (or high-speed blender) and pulse a few times until mixture resembles coarse sand and sticks together when pressed with fingers. Transfer to prepared pan and press firmly with the heel of your hand to evenly coat the bottom. Set aside.
To make the chocolate, first melt the remaining ½ cup of coconut oil in a small saucepan. Remove from heat and stir in the cocao powder until no lumps remain. Stir in the maple syrup followed by the vanilla extract. Pour chocolate sauce over the prepared crust, spreading as evenly as possible. (But it doesn't have to be perfect, since it will all be mashed together anyway). This is your "ganache" mixture. Place it fridge to set for about 10 minutes.
Remove "ganache" from fridge and let come to room temperature for a minute or two. Using a fork, break up the ganache mixture to form crumbles. Continue breaking up the chocolate so no large chunks remain. At this stage, it's already delicious and can be used as a topping for all kinds of treats. Or, you can roll the ganache into bite-sized truffles to get even fancier. Dust truffles with cocao powder or roll them in hemp seeds or coconut flakes and enjoy.
NOTE: I used virgin coconut oil for this recipe, which gives these more of a coconut taste. I typically only use refined coconut oil (not virgin) in cooking, since it doesn't give off the taste of coconut. If you have refined and not virgin coconut oil, these will still be ridiculously delicious, but they might not taste as much like Somoas. If you use refined coconut oil and want the extra hint of coconut, I'd recommend rolling them in coconut flakes at the end. Can't go wrong there!
—
Click on either of the images below to catch the relay!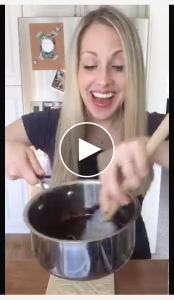 Thanks for tuning in!
Ciao,
Andrea
Summary
Recipe Name
Somoas / Caramel deLites Girl Scout Cookie Truffles (raw, vegan)
Author Name
Published On
Preparation Time
Total Time